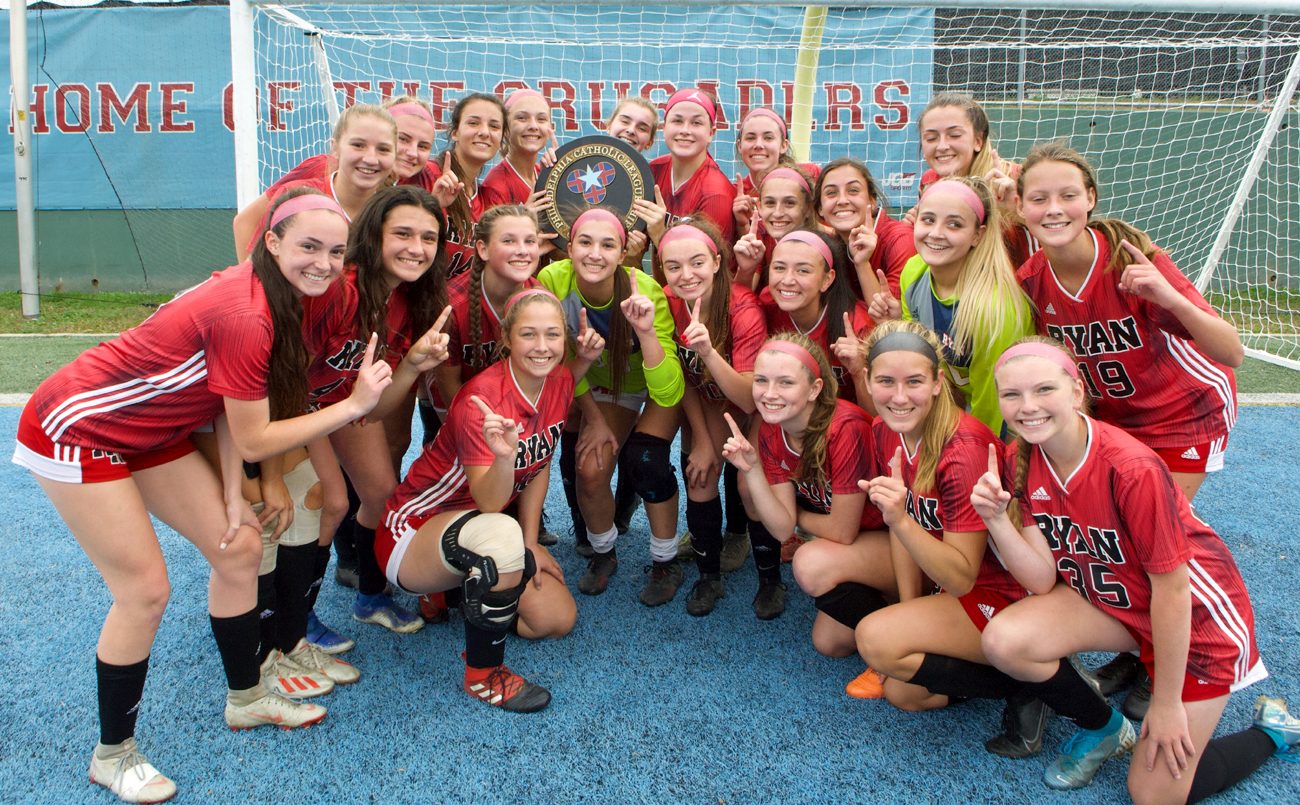 According to Gianna Monaco, Christmas came two months early for the Archbishop Ryan girls' soccer team.
"This is everything we wanted," said the senior first-team All-Catholic. "We wanted an undefeated season; we got that. We wanted the PCL title; we got that. I'm just so proud of my team."
Monaco was referring to the Ragdolls' 1-0 victory over Archbishop Wood in the Catholic League championship Oct. 26 at James Ramp Memorial Recreation Center. Despite the low-scoring game, Ryan's sixth title in eight years didn't seem in jeopardy at any point.
After Ryan senior second-team All-Catholic Sarah Szychulski converted a direct kick early in the first half, it felt like the Ragdolls had scored a bunch of goals instead of just one. The Ryan defense, led by back liners Szychulski, junior Grace Joyce, senior Cait Geiger, and sophomore Kaitlyn Brace, dominated the remainder of the contest.
"The girls in the back have a ton of experience," said Ryan coach Jonathan Geist. "They were part of the team last year; pretty much the same set-up. They're strong, confident on the ball, and very physical. But they can also play a touch pass."
Scychulski, who particularly frustrated Wood time and again with smart, aggressive clears, agreed.
"Everyone does have experience," she said. "But we really communicate well and work hard."
During the regular season, the two-seed Vikings finished 9-1, allowed only seven goals, and only lost to Ryan, 2-1, on Sept. 16. Despite their pedigree, the two-seed Vikings rarely threatened. When they did, Ryan first-team All-Catholic junior goalie Emma Joyce (Grace's twin sister) was up to the task, especially on Wood's best scoring chance late in the second half.
"We just knew we were the better team," said Joyce. We knew that we could pull off the win, and that's what we did. We all worked hard for this all season, and we made it happen."
When the game was over, the Ragdolls celebrated like a team that was very excited, but not particularly surprised. It was that confidence that kept Ryan on the offensive even late in the second half.
Even though their defense was more than capable of maintaining a slim lead, the Ragdolls wanted to put the game out of reach similar to their performance in playoff wins over eight-seed John W. Hallahan, 3-0, in the quarterfinals and four-seed Little Flower, 3-0, in the semifinals.
"We knew that Wood is a really good team and they were going to give us a tough game, and they did," said Szychulski. "We knew that if we played our hardest, we had it."
And an early Christmas commenced.